Add to wishlists
Join us in the infamous Hedonism II- from January 18th to January 25th, 2020
ANNUAL WINTER GETAWAY 2020 – NEGRIL, JAMAICA – HEDONISM II -JANUARY 18th -25th 2020
Adventure, wildness, eroticism, and sexiness! live out your fantasies! Explore the spectacular environment of Negril, Jamaica.
Overview
Trip Outline
Trip Includes
Gallery
Reviews
HEDONISM II 
JANUARY 18th -25th 2020
Join us in the infamous Hedonism II-
Adventure, wildness, eroticism, and sexiness! live out your fantasies! Explore the spectacular environment of Negril, Jamaica.
From: $500  – $851 USD per couple/ per night
Join us in the adventure: wildness, eroticism, and sexiness! live out your fantasies!
Often, some of the most satisfying experiences in life are the ones that you decide to keep a secret…
Hedonism II is an adult playground, it feeds the mind, the body, the spirit and the soul.
With absolutely everything included in one price, from amazing food and fine dining to unlimited top shelf drinks and premium cocktails. Scuba diving, volleyball and tennis with a pro instructor. A fully-equipped gym with a personal trainer and staff that goes above and beyond to make your stay more enjoyable. You never have to think about money. Not even tips. Just what to do next. And when. And with whom.
After being wicked for a week at Hedonism II, you'll view the world from a slightly different angle. You'll be tanned and relaxed, and at times you'll find yourself smiling for no reason whatsoever, nobody else needs to know…
Can you imagine lying down on a sunny beach in the middle of January while the sun's rays caress your skin? I know you can! So if that's we you have been dreaming of, pack your bags, book your escape and be ready to Jamaica to the max!
EVERYTHING YOU'VE HEARD IS TRUE!
TOP NUDIST RESORTS IN NEGRIL, JAMAICA
JAMAICA'S PLAYGROUND
The exotic, beachfront Caribbean resort is located on the far western tip of Jamaica nestled in a secluded bay at the edge of Negril's World Famous 7 Mile Beach silky white sand beach. With sunsets beyond description, breathtaking views of the Caribbean Sea, a lush tropical playground providing a sensual and carefree atmosphere, Hedonism II encourages you to live your fantasies to the fullest.
This is Hedonism II, where you can eat and drink, love and laugh, party and play around the clock.
USE PROMO CODE: SEDUCTION100
FOR $100 DISCOUNT
NEW CLIENTS ONLY 
Experience the unique ambiance and atmosphere of our luxury rooms designed to heighten your senses and awaken your spirit. Hedonism II features 280 luxury rooms and suites designed in harmony with the natural landscape. Indulge your senses in spectacular rooms that embody lavish living with contemporary decor. All of our premium suites feature private terraces with views of the ocean or lush jungle, jacuzzi's, flat screen TVs ,Euro-style Jacuzzi shower or rain shower, coffee maker, refrigerators, hair dryer, and a safety deposit box. Whatever you desire, our exclusive rooms surround you in luxury, style and a tropical paradise.
Garden View 
Set among our tropical lush gardens, your tranquil Garden Room offers spacious furnishings, a flat screen TV and refrigerator, in addition to the classic ceiling mirror and Euro-style Jacuzzi shower.
Mirrored ceilings
Flat Screen TV
Refrigerator
King Bed or 2 Twin Beds
Air Conditioned
Euro-style Jacuzzi Shower
Coffeemaker
Clock Radio with CD-player
Complimentary WIFI
Iron and Ironing Board (Available upon request)
Hair Dryer
Safe Deposit Box
$500 USD per couple/per night
USE PROMO CODE: SEDUCTION100
FOR $100 DISCOUNT
NEW CLIENTS ONLY 
This experience includes all meals – snacks, beach grills, buffets and gourmet sit down meals – are included.Red Stripe beer on tap and unlimited premium brand cocktails at no additional cost, 24-hours a day. House wines and champagne are also available. Also a wine bar where premium wines may be purchased by the bottle.
One of the greatest pleasures in life is indulging in our most hedonistic desires. From that extra slice of decadent chocolate cake or a lobster tail smothered in lemon butter, an extra shot of 12 year old rum in your punch to a sensual midnight tryst in the pool and then the Playroom …Go on and GO FOR IT.
Hedonism II is all about unadulterated self-indulgence that tantalizes all your senses. From your gourmet dining and drinking experience to your entertainment options. Open access to an adult playground nestled in the silky white sands of sunny Seven Mile Beach any day, any night-anytime. prepare yourself to experience pleasure in paradise with all-inclusive amenities including:
Gourmet Dining 20 hours a day
4 Restaurants, 2 Grills – No Reservations Needed
Premium Liquor & Access to All 5 Bars
Complimentary Wifi
6 Pools & Hot Tub's
Daily Games and Beach Activities
Nightly Shows, Night Club, Theme Parties & Entertainment
Access to Romping Shop Playroom *
Fully Equipped Fitness Gym
Au Natural and Clothing Optional Beach
Live Singalong Piano Bar
Sauna, Steam Room
Tennis, Beach Volleyball, Pickle Ball
Scuba Diving**, Glass Bottom Boat Rides, Snorkeling, Sailing, Kayaking
Hedonism II chefs and bartenders create a delectable array of dining and premium beverage options – from Asian, to Italian to an American-style Chop House.
Premium brand cocktails flowing day and night from 5 bars. Breakfast and lunch buffets are long, lavish and filled with creative Caribbean surprises and traditional favorites. Hamburgers and other treats sizzle all day at both Beach Grills.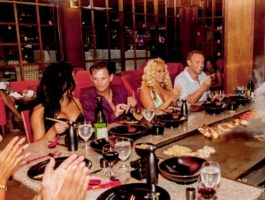 Harrysan
Sumptuous Japanese style cuisine, where dining is an entertaining experience. Innovative Japanese fare is prepared Teppanyaki style and served in a casually elegant atmosphere.
Open for dinner 6:30pm to 10:00pm

Casual

Reservations required

Closed Tuesdays and Fridays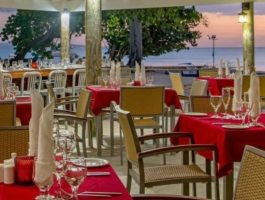 Flame
Join us beachside for a one of a kind, romantic, Jamaican chop house experience. Our newest restaurant, Flame adds an exciting flare with the hand selected ingredients. Flame feature juicy tender steak entrees and gourmet pizzas, among other specialty items. The menu is subject to some slight changes as various items are in and out of season, but rest assured each menu offering will be carefully chosen by Chef Anthony and his amazing Kitchen Staff.
– Open for dinner 7:00pm – 9:30pm
– Casual
– Closed Fridays
Restaurant Schedules Are Subject to Change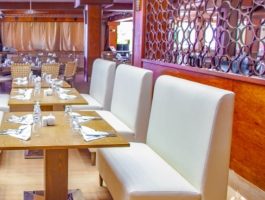 Main Dinning Terrace
Dine buffet style in the constantly changing Terrace Room – large, open-air main dining room serving creative Caribbean surprises and traditional favorites – buffet-style – for breakfast, lunch and dinner.
Breakfast: 7:30am to 10:30am

Continental Breakfast: 10:30am to 11:00am

Lunch: 12:30pm to 3:00pm

Dinner: 7:30pm to 10:00pm

Midnight Snack: 12:00am to 2:00am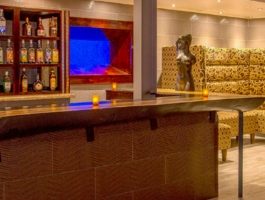 Bar & Lounges
It's impossible to be thirsty at Hedonism II. Unlimited, truly premium brand cocktails made with Grey Goose and similar name brands flow day and night from 5 bars at Hedonism II. Plus our house wines and champagne have been upgraded (and of course unlimited consumption is included!) We have added an optional wine list full of great wines for purchase for those who want to splurge.
Order your favorite cocktail, or be daring and ask our bartender to whip up one of his/her specialty concoctions.
Go a little crazy. Experiment. That's what Hedonism is all about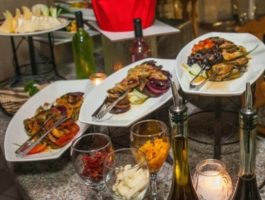 Pastafary
A culinary adventure, Pastafari is a unique Italian restaurant with a Jamaican accent to offer a truly unique dining experience. At each visit, we want it to feel as if yours is the only table in the room. The impeccable Italian fare stems from the Dishes' high-quality ingredients, such as freshly grated Pecorino-Romano and Parmigiano-Reggiano cheeses and fresh seafood.
– Open for dinner 6.30pm-10.00pm
– Closed Fridays
– Semi-formal (tailored shorts allowed)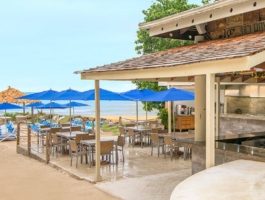 Nude Beach Grill
Set on the edge of seven mile beach, Negril our nude beach is hidden in a secluded cove. Total beach length is over 1,000 feet long, with soft white sand. Loungers and towels are provided. Nude Beach Grill During the day the grill serves the standard grill options such as jerk chicken, grill cheese, nachos, grilled fish and more!
11:00 am – 7:00 pm &
12midnight – 5:00am – Daily
Before you travel please make sure you review the information on the following link:
WHAT TO EXPECT
Will I see naked people? 
Answer: yes. Hedonism II is a Lifestyle-friendly, clothing-optional beach resort where you can do pretty much what you want when you want. If you want to take it all off on our beach or pool areas, go ahead; if you prefer a little cover up, that's fine too. At the end of the day, life's too short to wait for deep kisses, amazing experiences and midnight swims. Memories keep a twinkle in your eye and keep everyone guessing where you went on vacation.
Is there a playroom?
 Yes, the rumors are true, we have a playroom called the Romping Shop. It is an environment purely designed for pleasure and play, a place for you to experience your deepest desires in a decadent exotic setting. Imagine soft lighting, white flowing drapery, soft fluffy pillows on beds surrounded by waterfalls – perfect for stargazing through the open rooftop. It's an intimate atmosphere, soft, sexy and beautiful.
What to Pack?
Yes, we're a Lifestyle-friendly, clothing-optional resort but you will still need some clothes to enjoy certain public areas of the resort: lobby, restaurants, Lifestyle Boutique, Piano Bar, Wine Bar. We have a fully equipped gym, so if you really want to work out on vacation, gym shoes and work out attire is required. A note to the ladies; "a dress makes no sense unless it inspires a man (or woman) to want to take it off."
Theme nights at Hedonism II Negril, Jamaica allow you to dress and act sexy, fun, flirty and with total freedom. Wearing a costume allows you to explore your wild side.
How many pools are at Hedonism II?
There are two clothing optional pools, a clothing optional hot tub, two clothing optional plunge pools, one nude pool with a swim-up bar and a nude hot tub.
What entry documents do I need to enter Jamaica?
For U.S., Canadian and U.K. citizens, a valid passport is the only documentation required. All other international guests may need a visa. Please consult with your travel professional, local Jamaican consulate, or Tourism Board. Immigration forms will be given out on the plane. Remember to bring a pen in order to fill out the forms prior to arrival in Jamaica in order to expedite your arrival process.
What is the accepted form of currency?
The Jamaican dollar is the legal tender in Jamaica. We are happy to exchange currency for our guests on property. However, most merchants will accept U.S dollars or traveler's checks, and major credit cards. Once you are at Hedonism II, almost everything is included in the price you pay. The resort is on a cashless system. Additions will be charged to your room and processed by credit card upon check out.
What is the weather like in Jamaica?
Our average daytime temperature is 82°F (28°C) while average nighttime temperature is 72°F (22°C). February is the coolest month, while July and August are warmest. The turquoise blue Caribbean Sea is always warm, and refreshing, with temperatures averaging between 80°F (26.6°C) about 84°F (28.8°C).
What is Jamaica's time zone?
Jamaica is on Eastern Standard Time. There are no adjustments for Daylight Savings Time. That means that during the summer months, Jamaica follows U.S. Central Time.
Can I drink the water in Jamaica?
Tap water in Jamaica is safe to drink.
Should I bring an electrical adapter?
Jamaica uses 110 volts and 50 cycles. For guests outside the US or Canada, please bring your own adapter.
JAMAICA NEGRIL
Located approximately 72.5 km (45 miles) from the Sangster International Airport in Montego Bay, Negril stretches across parts of two parishes (Westmoreland and Hanover) on Jamaica's westernmost tip. Downtown Negril, the West End and the southern portion of what is known as the "seven-mile beach" are all in Westmoreland. It is nearly impossible to put into words the natural beauty of Negril. Miles of powder white sand bound by lush tropical foliage. If you close your eyes and try to imagine paradise, you will likely see Negril. Cool and laid back best describes the atmosphere of this magical place.
ONE OF THE WORLD'S MOST RENOWNED BEACHES
For many years, Negril's beach has been rated as one of the top ten beaches in the world by many travel magazines. Indulge yourself in the silky white sands of the expansive Seven Mile Beach. The north end of the beach is home to Hedonism II. South of downtown Negril is West End Road, known as the cliff area, which is lined with easy access to beautiful warm clear aquamarine waters perfect for snorkeling and diving or take your adrenaline to the next levels with extreme drop off points along the seaside cliffs with jumping points reaching more than 40 feet (12 m) high.
Places of interest that you may want to visit